Professor Khazaka, Ph.D. Carleton
Biography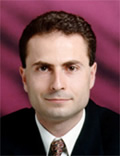 Roni Khazaka received his Bachelor, Master and Ph.D. degrees in Electrical Engineering from Carleton University, Ottawa, Canada in 1995, 1998 and 2002 respectively. In 2002, he joined the Department of Electrical and Computer Engineering at Mcgill University, Montreal, QC, Canada, where he currently is an Associate Professor.
Dr. Khazaka is a senior IEEE member and has also served on several IEEE committees. He was Montreal section treasurer (2005/2006), Montreal section student activities coordinator (2004), and IEEE Region 7 (Canada) student representative on the IEEE Student Activities Committee (1995–1998). He is a member of the Technical Program Committee of Signal Propagation on Interconnects Workshop since 2006, and is the CAD track co-chair of MWCAS/ NEWCAS 2007.
News and Events
The 2013 International Conference on Analog VLSI Circuits (AVIC2013) is taking place in Montreal on October 16-18, 2013. This conference is the successor of the International Analog VLSI Workshop, which had been successfully held for 15 years. Prof. Roni Khazaka is the General Chair for the conference this year.
Research Interests
FPGA based hardware acceleration for numerical computation.
Numerical algorithms and techniques.
Design Automation of VLSI circuits and High speed analog (RF) circuits.
Mixed signal simulation.
Modeling and simulation of high-speed interconnect networks.
Timing analysis.
On and off chip signal integrity issues including inductive effects.
Nonlinear steady state simulation of RF circuits.
Model order reduction, Krylov subspace techniques.
Thermal and EM emission analysis
Design automation for optoelectronics systems.
Simulation of microelectromechanical systems (MEMS)
Awards
Best student paper award - Electrical Performance of Electronics Packaging (EPEP2001).
NSERC post doctoral fellowship, 2002 (Declined by the applicant).
Japan Foundation Study Tour Award (2001).
IBM cooperative fellowship (2000&2001).
Nortel networks scholarship (1999).
NSERC PGS-B scholarship (1995).
NSERC PGS-A scholarship (1997).
John Rupthash memorial fellowship (1995).
Undergraduate NSERC summer research scholarship (1994).
Digital Equipement of Canada Ltd. Award.
Spar Aerospace, Dr. John H. Chapman Memorial Prize (1994).
Dr. Frederick William Charles Mohr Scholarship (1993).
Ontario Hydro Electronics Engineering Award (1993).
A. Davidson Dunton scholarship (1992).
Hewlett-Packard award (1992).